Conquer the Challenge of Construction Time Lapse Filming
Brinno's new Camera Clamp Plus (ACC1000P) is DURABLE in material, ADJUSTABLE in grip, FLEXIBLE in tilt angle. The patented tool kit captures any viewing angle of time lapse filming you desire. It makes construction monitoring much easier.
◾ DURABILITY: The tool kit is made of sturdy stainless steel, providing excellent resistance to corrosion and rust
◾ ADJUSTABILITY: The clamp allows you to hold tightly and securely to any object or surface, indoors or outdoors
◾ FLEXIBILITY: The magic arm lets you tilt the camera to point anywhere you want with any angle.
Hold Tight to Any Surface
Extendable Clamping Range
Adjustable Multi-point Mounting
Flexible Mounting View Angle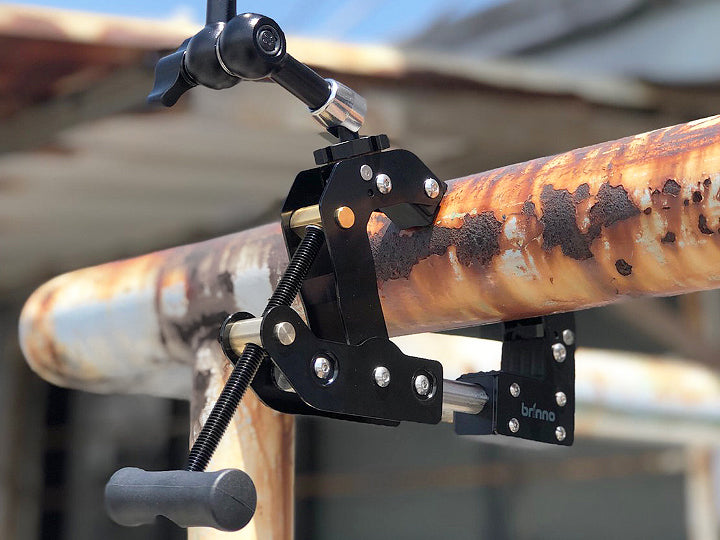 Model NO.
ACC1000P
Contents
Camera clamp; Magic arm; Extension poles; Wrench
Camera Mount Screw
¼"
Clamping Range

Tube: 0.4~ 3.5 in (10 ~ 90 mm)
Flat surface: 0.04~ 3.5 in (1 ~90 mm)
3.5~ 10.6 in (90 ~270 mm)(with extension pole)

Magic Arm Load Capacity
6.6 lb (3 kg)
Clamp Load Capacity
110 lb (50 kg) (without extension pole)
Size

Folded: 8.2x 3.7x 1.5 in (209x 94x 39 mm)
Extended: 6.9x 7.1x 2.4 in (176x 180x 60 mm)

Weight
2.3lb (1.05 kg)
Materials

Clamp: Stainless; Aluminum
Magic Arm: Stainless; Aluminum
Extension Pole & wrench: Stainless